Parking Symbol A-Frame Sign
Double-Sided and available in 24 × 36″
Note:
Kit includes: Two printed single-sided signs, plus one frame either in plastic. Weight information is below.
An A-Frame parking sign is a simple, cost-effective way to manage your parking lot. These signs are available in a wide variety of legends to enforce different policies such as no parking, valet parking, and more. The A-frame design makes it easy to display signage where necessary and allows for easy storage when not in use.
---
24 × 36″ Deluxe Heavy-duty 21 lbs. Portable Plastic A-Frame
Frame Outside Dimensions: 46.125″ H × 27″ W × 3.125″ D
Frame Weight: 20 lbs.
Corrugated Plastic Signs + Frame Weight: 21.15 lbs.
---
Product Information
Details
24 × 36″ Deluxe Heavy-duty 21 lbs. Portable Plastic A-Frame + Two 4 mm Corrugated Plastic Signs
Large format sign stand
Sold with two 4mm Corrugated Plastic signs
Hardware is not required
Signs easily slide in and out
Will accommodate two 24″ wide × 36″ high signs
Folds flat and has a carrying handle for easy portability
The Quick-Change feature allows for sign changes in seconds
Stay tabs ensure sign stays securely in place
Add sand to the frame for a more stable solution. Instructions below
Hinges lock in open position to prevent the frame from over-extending
The frame covers ½″ of the sign at the top and bottom
Application and Benefits
This deluxe version has a "lift up, drop in" feature, and no hardware is required when installing your sign panels. The "lift up, drop in" feature is the key to make this stand different from others.
You can add internal weight to the stand (if needed). We recommend 5 lbs (or about 1/2 gallon) of dry sand in each side. Avoid filling the frames all the way to the top or they will bend.
Can be used indoors or outdoors. Sign panels may need to be replaced after 1–2 years of outdoor use.
Use on sidewalks, job sites, open houses, and many other applications
Assembly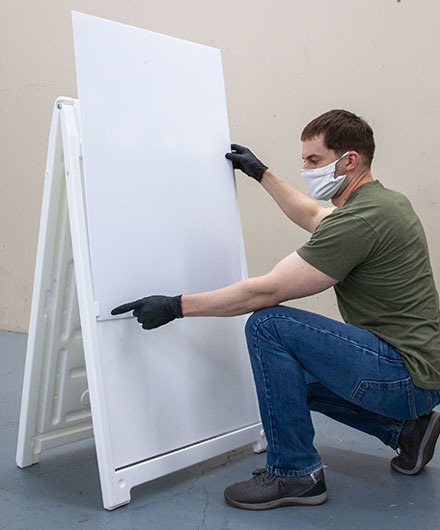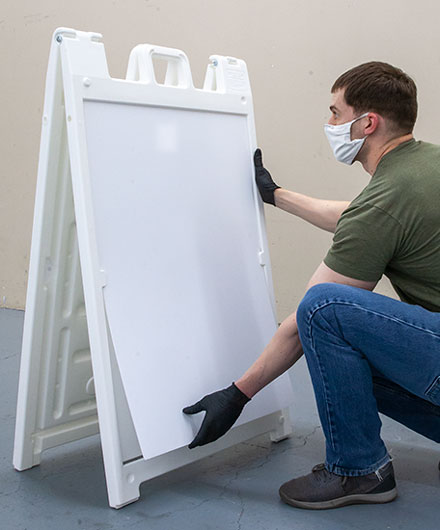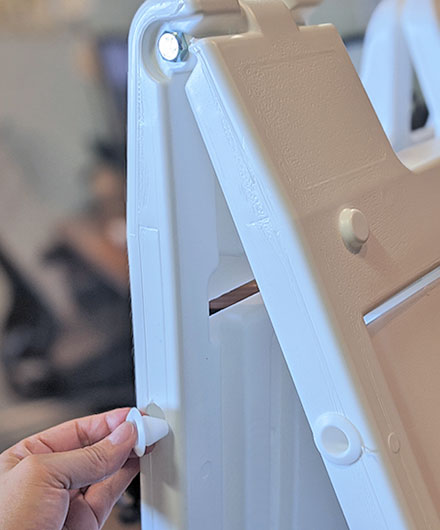 Reviews