Portable Pole 2 Sign Stand
Stable in winds up to 30-40 mph
Note:
Add 2-3 gallons of water to the base using one of the Ballast Ports, for stability and wind resistance; the complete sign will weigh 25-35 lbs.; 30-40 pounds of sand can be substituted for the water for additional stability.
The Portable Pole 2 Sign Stand is one of the most versatile and easy to move portable sign stands on the market today. Great for indoors and outdoors, this compact stand can be used with traffic signs, safety signs, parking signs, and more.
It can easily accommodate 9 × 12″, 12 × 18″, 18 × 12″, 18 × 18″, 18 × 24″, 24 × 18″, 24 × 24″ signs and even 12 × 36″ in-street crossing signs.
Sign mounting hardware is included with the stand.
The base is 18″ in diameter and 12″ tall, and the pole is 48″ with pre-drilled holes for sign mounting. This stand features a nylon loop handle that gives you something to grab when moving your sign, 2 holes on the base for filling it with sand or water, sign stability plates to prevent twisting, and 3″ recessed wheels for effortless moving. When completely full of sand or water, the stand is stable enough for winds up to 30 to 40 mph. This product will ship in two separate boxes.
For 2 sided signs place the second sign face between the back Stabilizer Plate and the Flange Nut. Two 080" thick signs back-to-back work OK. For a more secure application or thicker sign panels a longer 5/16″ bolt may be required.
Product Information
Details
Portable Pole 2 Sign Stand
This portable pole sign base represents the next generation in portable sign holders thanks to its compact base, large recessed wheels, pre-drilled pole with lock and high wind resistance, plus sleek look. Accommodates stock and custom signs from 9 x 12″ to 24 x 24″ and 12 x 36″, plus single or double sided signs. Can be used indoors or out and the compact 18″ diameter x 12″ high, rust and ding proof technopolymer base can be filled with water or sand for stability in winds up to 30-40 MPH. Each base includes a round finial top and stability mounting plates to keep the sign face from twisting on the pole.
2" Chain Link Fence Sign Mounting Kit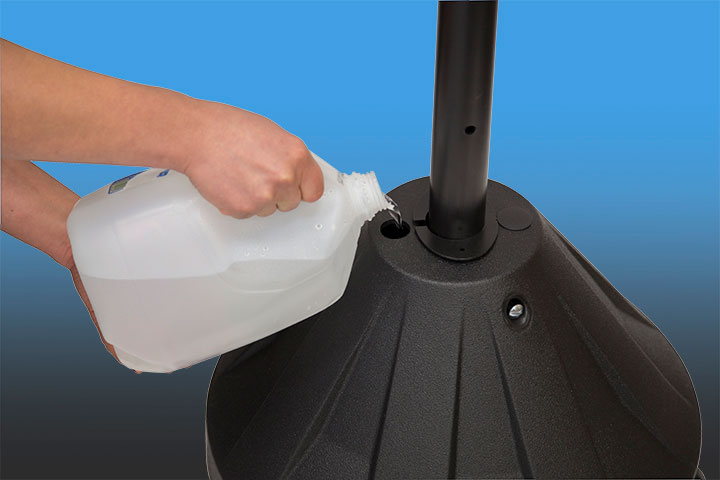 Reviews